Wild Music Publications
I'm updating my music section because a few visitors are interested in the music books. We have a brand new music website at Wild Music Publications where you can download pdfs, backing tracks and find out all about our huge range of music books for beginner and intermediate players and where to buy the books.
We've had lots of requests for more duet books and over the summer Jemima and I have been busy arranging music for various instrumental combos. Here are the latest books in our collection: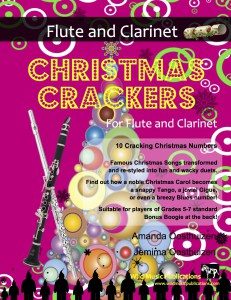 Christmas Crackers is a slightly crazy duet book with 10 cracking christmas numbers transformed and re-styled from well-known christmas carols into wacky duets. Suitable for two equal players in various instrumental combinations of Grades 5-7 standard.
By popular request, we have arranged even more duet books. It's great fun to play with friends and family so keep watching because we will be developing this range of books to include different pairs of instruments and combinations of instruments.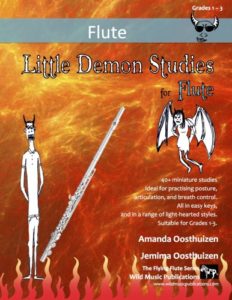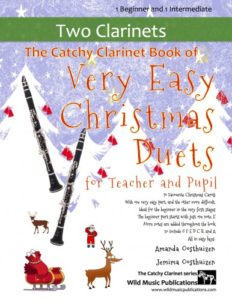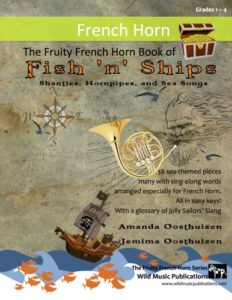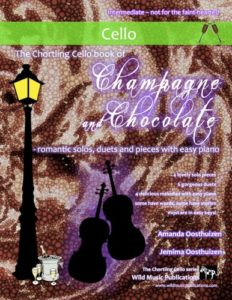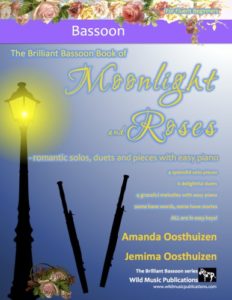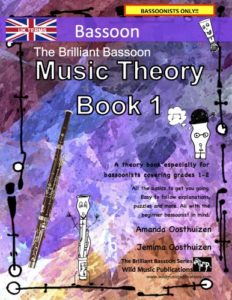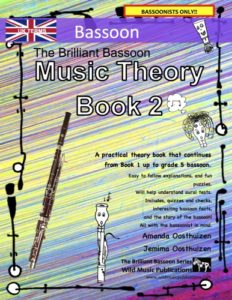 Amongst many other books we also have: Trick or Treat, A Halloween Suite
Also available for descant recorder players, strings and brass – check out the Wild Music Publications website.
Trick or Treat is a fun-packed halloween music book suitable for one or two players. It includes 13 spooky duets and solos with special effects, actions and creepy lyrics and also fearsome classical arrangements.
Great for music lessons and playing with friends, entertaining the family and even busking. It is suitable for beginners but some are a little harder so it will be great to play this year and next year. Watch out for wacky slides, squeaks and squawks in the wind books and jittery bows in the string books!
Includes: Witches Round the Cauldron, Trick or Treat, Spooks on the Loose, Dancing Bones, Creeping Up the Stairs, Heavy Footsteps- Monster Dance, Bats and Broomsticks, March to the Scaffold – Berlioz, Ride of the Valkyries –Wagner, The Force of Destiny – Verdi, Toccata and Fugue in D Minor – J.S. Bach, Danse Macabre – Saint-Saens, and The Sorcerer's Apprentice – Dukas.
Easy Traditional Duets
28 traditional melodies from around the world arranged especially for two equal beginner players (other instrument combinations and pairs will also be available). For the flute player some pieces go as low as lowest E and as high as 2nd octave C, notes learned for Grade 1 although some of the pieces are easier than Grade 1 and some harder. All the clarinet parts are below the break. For the bassoon player, none of the pieces include vent key notes. All tunes are in easy keys. Pieces are mostly one page in length, a few are half a page and a couple are two pages long.
The pieces included are: Bobby Shaftoe, Cripple Creek, Hey Ho, Anybody Home, Kookaburra, Molly Malone, Matilda, Miss Lucy Long, O My Darling Clementine, Sur le Pont D'Avignon, Sweet Betsy from Pike, This Land is My Land, The Volga Boatman, Yankee Doodle and many more.
I hope you enjoy them.
For the more advanced player there is:
Priced at £5.76 in the U.K Bassoons –  U.K. Flutes – U.K. Clarinets – U.K. Flute and Clarinet – U.K. Descant and Treble Recorders – UK Clarinet and Alto Sax.
and at $8.95  in the U.S.A. Bassoons – U.S.A. Flutes – U.S.A. Clarinets  – U.S.A. Flute and Clarinet – U.S.A.Descant and Treble Recorders – U.S.A. Clarinet and Alto Sax.
Classic Duets for Two Flutes of Intermediate Standard and Classic Duets for Two Bassoons of Intermediate Standard also available for flute and clarinet and two clarinets, and descant and treble recorders. Lengthy titles, I know, but at least you know what you're getting! There are a few easier pieces but most explore the range of notes and techniques expected of players that are Grades 4+, and some are quite tricky! The pieces are arranged for players of equal standard, so each player gets to play the tune!
There are 22 pieces in the book, some are longer, but most are short – one page, several are two or three pages. I've tried to be as varied as possible and have included both classical and traditional tunes, slow and fast pieces, easy and difficult, ones to play straight away and others to work on, but I hope you find them all enjoyable and fun. Arrangements include extracts from: Beethoven's Für Elise, Prokofiev's The Duck from Peter and the Wolf, Dvorák's Humoresque, Holst's Jupiter from The Planets, Loch Lomond, Grieg's Morning from Peer Gynt, Elgar's March from Pomp and Circumstance, Chopin's Prelude Op.28, Boccherini's Minuet, Bizet's Air de Toréador from Carmen, Beethoven's Minuet in G, Glinka's Intermezzo, Tchaikovsky's Andante Cantabile from Symphony No.5 , Brahms' Waltz Op.39 and more, some of which I expect you're unlikely to know because I wanted to include an element of musical exploration and adventure. I hope you enjoy playing them!
Available from Amazon priced at $9.95 or £4.50 (often much less). Good value! Links below:
25 great melodies specially arranged for the two instruments, one part very easy and the other more difficult. Ideal for the beginner and intermediate player or even for teacher and pupil. Brilliant for sight-reading practice. All arranged in easy keys and specifically for the instrument. Includes well-known music by the most famous composers: Mozart, Vivaldi, Strauss, Tchaikovsky, Chopin, Delibes, Bizet, and more.
Last Christmas, my music book sales were INCREDIBLE! I would never have thought it possible. Thank you to everyone who bought one and I truly hope you've enjoyed playing the music. I've added several more including quite a few duet books for pairs of instruments and combinations of different instruments. There are arrangements designed specifically for many instruments. Here are a few examples but details of the full range of Christmas duets and the solo Christmas books can be found on the website. There are loads of different combinations of instruments available.
A new range  of music books is now available. Introducing:
Easy Tunes from Around the World – Flute (also available arranged especially for bassoon, clarinet, recorder and saxophone)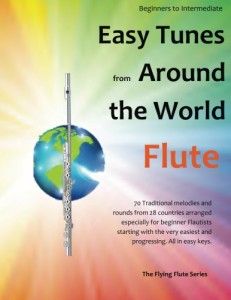 Available here priced at just £4.00 (often much less)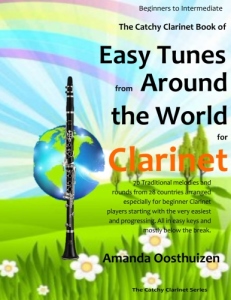 I love to travel and there's nothing like armchair exploring through music. From Lithuania to Italy, the USA to England, Tibet to Morocco to South Africa and zig-zagging to destinations in between, you'll discover 70 tunes from 28 different countries The book includes music for the beginner player with an international feel. Ideal for exploring the music of the world, or simply tasting something a little different.
Starting with the very easiest – just 4 notes, and progressing to include the first and second octaves; some are short, others longer, you'll find plenty of familiar melodies included as well. All are in easy keys and on large easy-to-read staves.
Have you seen this?
A brand new book arranged for beginner to intermediate instrumentalists is now available through Amazon here priced at around £4.00
I have gathered together extracts from the most popular classics by the world's greatest composers – Bach, Purcell, Handel, Vivaldi, Mozart, Rossini, Beethoven, Chopin, Delibes, Tchaikovsky, Borodin, Elgar, Strauss, Saint-Saëns, Holst, Dukas, Bizet, Verdi, Puccini, Wagner and many more and I've compiled the arrangements with the easiest at the beginning of the book. It has been a lot of fun. You'll find music from The Nutcracker, Swan Lake, Eine Kleine Nachtmusik, La Traviata, Carmen, Lohengrin, Carnival of the Animals and much more – orchestral music, ballet, opera, choral – you name it and it's in the book. If it isn't, I'll have to do another!
All are in easy keys and although the pieces at the start are easy, there are more challenging arrangements towards the end.
50 Greatest Classics is also available also arranged especially for recorder, clarinet, bassoon and saxophone.
Look out for the next book – World's Greatest Waltzes, coming soon.
And if you enjoy duet playing, take a look at these:
Five great new music books available now!
The Flying Flute Tutor Book is a big, new, creative approach to learning the flute. Taking the beginner from very first sounds right into the third octave, it is packed with music to play, duets, hints and tips, rhythm games, puzzles, technical and creative improvising and composing activities, easy extended techniques and includes a progressive tune book. With 150 pages, large staves and a sympathetic approach to music reading. It is available here: Priced £6.99
Dazzling Diamonds and Little Gems are easy arrangements for flute with optional piano that include some creative ideas for practice.
Both books are suitable for players up to Grade 3.
Dazzling Diamonds is set at Grades 1-2+
Little Gems is set at Beginner to Grade 1+
Each piece of music has a page of practice and performance tips and ideas. Great for a little extra help between lessons and a fun way to learn how to practise.
Each is available from Amazon. Just click the link:
Little Gems for Flute    only £4.99 or $9.00
Dazzling Diamonds for Flute priced at £4.99 or $9.00
Also available on Amazon is Catch the Beat – a sightreading practice book and The Flying Flute Tune Book – 104 easy tunes for the beginner flute player based on groups of just three or four notes. With creative ideas to assist music reading and lots of puzzles and improvising tasks, The Flying Flute is ideal for building fluency and confidence and having fun playing the flute.
Available through Amazon at only £4.99 here: The Flying Flute and here Catch the Beat. More details by clicking the appropriate menu.