Reading at St Pancras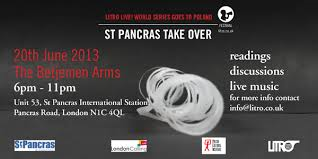 I'm thrilled that I've been invited to read at the Litro and Polish Cultural Institute event at St Pancras on Thursday June 20th.
Speakers include: Grażyna Plebanek, Wioletta Grzegorzewska, A.M. Bakalar, Jacek Dehnel and 2012's UK Slam Champion Adam Kammering. Music from avant-garde harpist and Rockabilly Gypsy Jazz pioneer Lucinda Belle and DJ Liminal Londoner. Sounds fun!
I'm reading my Schulz-inspired story 'Gloves of Gdańsk' which is displayed as a poster on a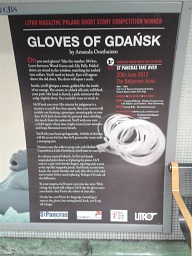 playform at King's Cross underground. Here's a picture of it but if you can't read it, and would like to, (it's very short and won't take up much of your time and I think you might enjoy it); here's the link. Gloves of Gdańsk
Now I'm updating this. It was really fun! I met some impressive Polish writers and the judges of the competition. The novelist, A.M. Bakalar, who was in charge of judging the competition said that the judges were unanimous about my story winning, which is a big compliment. She also said how much she loved the story. I'm very pleased about that. A.M. Bakalar interviewed the Polish writers. Adam Kammering's slamming was entertaining.
I was slightly nervous about reading, it was the first time in public. Of course I've read a lot to other writers, family etc but it is not the same thing, is it? Because it was my first time, I took along two daughters and one of
their boyfriends as a team support unit. They were great. They said the reading was fine, and they would not mince their words if it wasn't so I'm believing them. Anyway, I really enjoyed myself.  I can't say that it didn't help that there was great deal of free wine. I restrained myself, however, until after the reading.