3:AM Magazine – my story goes live

It is fantastic to have a story in 3:AM. My piece, 'Three Girls Sing a Sutartine' is now published. Many thanks to Hestia and the wonderful 3:AM folk for producing such a fascinating magazine – it's full of challenge and discovery. Here is the link if you'd like a short read.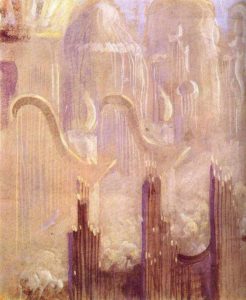 The piece is accompanied by a wonderful painting: The Creation of The World (1905/6)  by the Lithuanian symbolist painter and composer Mikalojus Konstantinas Čiurlionis which is part of a cycle of different images, all of which bear the same name. Here is a link to one of his symphonic poems: Miške (In the Forest), symphonic poem for orchestra (posthumous). I think both painting and music fit my story perfectly.
A sutartine is a Lithuanian multipart song usually sung by women. Here is a beautiful, mesmerising example of a sutartine. The song form is close to extinction and on the World Heritage 'List of the Intangible Cultural Heritage of Humanity'.
When I first discovered that fact, I was astonished and thrilled that there should be such a list. A brief look at it is mind-blowing. It includes:
The Mongolian coaxing ritual for camels.
The Portuguese manufacture of cowbells.
Slovakian bagpipe culture.
The art of wit in Uzbekistan.
Mongolian knuckle-bone shooting.
The Estonian smoke sauna.
Shrimp fishing on horseback in Belgium.
I could go on and on and on. They are wonderful and mysterious and I hope they don't die out. For goodness sakes, how could we lose Siattista – the art of poetic duelling in Cyprus, for example, or the watertight bulkhead technology of Chinese junks, the Chant of the Sybil on Majorca, the hopping procession of Echternach, Belgium. I leave you to dwell upon these images.