Story in Unthology 7, the Venice Biennale 2015 and Norwich.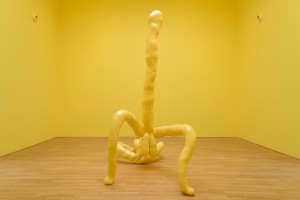 My story, 'The Harp and the Thorn Tree', has been published in Unthology 7 along with the work of a dozen other writers. It's a brilliantly diverse collection of stories that confronts contemporary life and provokes a dialogue.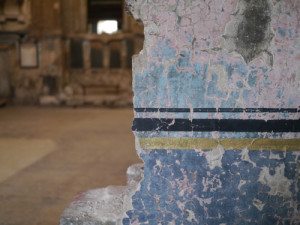 I've been thinking about contemporary fiction, contemporary music and contemporary art. Take contemporary classical music for example. Here's Samantha Fernando, a young British composer, explaining about the performance techniques used in her cello piece written for the London Sinfonietta and performed in the Asylum Chapel, Peckham. From the snippet you can hear that she's exploring the sound world of the cello and pushing its boundaries in order to create something new, vigorous and enticing.
I find contemporary classical music exciting. It's surprising and challenging. It leads you to places and ideas that you had no idea could exist. It's a world away from Tchaikovsky and Mozart but it is as interesting and beautiful. I recently went to a concert, also London Sinfonietta, where composers Gavin Higgins, Matthew Herbert, Philip Venables, Emma-Ruth Richards had work performed that addressed current issues like the bedroom tax, the value of words, gender and revolution, sex trafficking. Music that's relevant to us and our world. Composers in dialogue with contemporary society. The music was diverse, sometimes challenging, and often unsettling and it made you think and confront your prejudices.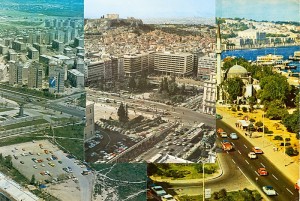 I'm off to the Venice Biennale next week, and although, for many reasons, it is not known for its controversial art, I'm hoping to be sizzled both by the sun and by the creativity, and if not by controversial art, then by ideas that I find challenging. One I'll be looking for is the work of Armenian artist, Aikaterini Gegisian who has collected photographs of cities from the 1960s-80s and created, through collage, newly imagined places. In fact, there's so much to see I'm going to have to clear the photos from my phone. From the British team, I'm going to be watching out for Sonia Boyce's 'Exquisite Cocophany', a sound and performance installation about 'social interaction and the fluidity of language', in which two performance artists improvise simultaneously. Sounds fun, doesn't it?. Of course, there's Sarah Lucas and her entertaining yellow penises and smoking buttocks and I won't be missing the mini-golf, in which several British artists were commissioned to design a hole.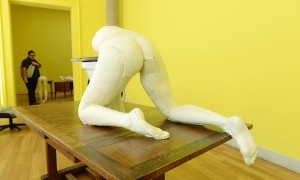 Back to Unthology 7. I was in Norwich last week for the launch and I had a fantastic time. It was particularly good to meet Ashley Stokes and many of the writers included in the anthology: Gary Budden, Elaine Chiew, Dan Powell, Adrian Cross, Debz Hobbs-Wyatt, Elizabeth Baines and Barney Walsh and to hear them read. I heard Robin Jones, Charlie Hill and Roelof Bakker the previous week at the London Short Story Festival. I should have switched on my voice recorder. I could have put the readings up here.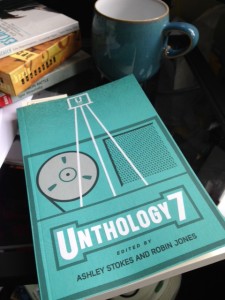 The stories in Unthology 7 deal with the tricks, twists and twistedness of love, desire, sex and memory. It's a scary book. Ashley Stokes and Robin Jones are masterful when it comes to collecting cutting-edge stories, and they know how to make you think. Every writer has taken a creative risk, expanded the real world for us, and many are exhilarating high-wire acts. By the way, I'm honoured my story is in there and excuse myself from all that unauthorised risk and expansion. But as a reader, I love all this because I want to read work that is as adventurous as our contemporary music and contemporary art. Don't expect an easy ride. I'll write another post later, so that, if you're still dithering over whether to buy the book, and I can't believe you are if you've got this far down my blogpost, you'll then know a little about what to expect. But expect to go somewhere new, expect to be challenged. Isn't that what contemporary fiction should be like?
I mentioned Norwich. It is a really lovely place. Wonderful shops, fascinating history, Edith Cavell, cathedral, castle, buzzing arts scene, Unthank, Galley Beggar, Gatehouse, fabulous Norfolk Broads, river trips. It has everything. You really should go. And it has a wonderful market square with a mass of seaside stripy stalls, all overlooked by the MEGAGOVERNMENT, i.e. a 200 foot wide Art Deco City Hall. Alexanderplatz meets Brighton beach.