My story wins Litro's Schulz/Poland Competition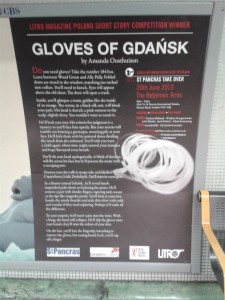 More great news. My story 'Gloves of Gdańsk' has won the Litro Bruno Schulz Poland Competition. It is online here and is going to be up at King's Cross Station – that's really amazing! I'm honoured. I'll have to make a trip up to London to see it.
I've had a text from one of my daughters to tell me it's up at King's Cross right now (she's taken a picture of it – above). I don't know for how long it will be displayed though. I do know that I am probably going to read from the story on 20th June – I'll have to find out how to pronounce those Polish place names.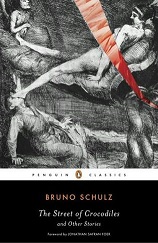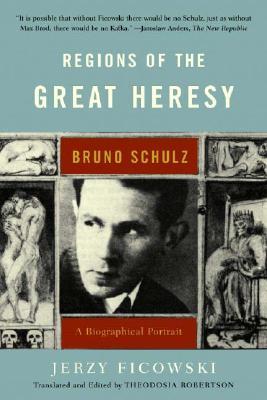 The brief was to write a story that was influenced by Bruno Schulz's 'Street of Crocodiles'. Schulz is an amazing writer; if you haven't read any of his work it's definitely worth looking him out, particularly if you're interested in the surreal, the fantastic and the grotesque. Various stories can be found online if you look hard or else fork out the cash and buy 'Street of Crocodiles'. Another really interesting and related book is Jerzy Ficowski's biography of Schulz, 'Regions of the Great Heresy'. Schulz was killed by the Nazis in World War II; Ficowski's biography provides a detailed analysis of his life and work and makes very interesting reading. It also includes a collection of photographs and some of Schulz's drawings; Schulz was drawing master at the school in Drohobycz and used to tell stories to his class in order to entertain the pupils and to relieve himself from the boredom of it all.
My story is a homage to Schulz. I had read one story many years ago but not much since. When I decided to enter the Litro competition, I read a great deal more and became interested in his life and fascinated by his work. Some weeks before I was thinking about writing a piece for the Poland/Schulz competition, my daughter, Tilda, who is an artist who writes, texted me a photograph of a derelict shop in London. Shirts were tiered in the window along with weirdly shaped objects that looked like odd pieces of bread – she told me they were mouldy gloves. Tilda thought it might be an interesting place to do an exhibition or installation and knocked on the door. The owner's eyes appeared above an old sheet strung across the door. That picture and my reading of Schulz's work were more than enough to get started on the piece. I am also becoming increasingly fascinated by Poland. It has had such a troublesome past and is a beautiful country. I'm wondering about a trip. Where shall I go? I'll have to look into that. I'm glad I've written this story. It has given me a great deal to think about both literary and otherwise. It's the kind of story I love to write and I am so delighted that someone else has liked it too and I'm honoured that it has won this competition. Three cheers for Bruno Schulz!
Here's a screenshot of the start of the story. The event at St Pancras was wonderful. It was my first time reading in public, and although I was nervous, I really enjoyed myself!