March 2013
February turned out to be a particularly good writing month for me and March is becoming rather exciting as well. I have a poem, The Coat, in 'Barehands Poetry' and Liars' League have accepted my story, The Glorious Dolores for performance on March 12th.
The Coat is my first published poem. I don't think of myself as a poet, I'm really more concerned with writing novels, but I saw 'Barehands Poetry' online and really liked their enthusiasm and wonderful ideas. I particularly love the idea of poetry on a postcard – a picture on one side and a poem on the other. They distribute these to bookshops and people can pick them up free. Nice. I'm going to submit something for that competition very soon. It has to be hand-related, I think.
The Liars' League are a pretty amazing bunch and they certainly know what they want! Each event is themed, my story has been selected for  'Song and Dance'; an actor will perform a reading of the story at The Phoenix, Cavendish Square, London – March 12th 7.30. What a brilliant idea. It seems as if the whole concept is spreading – they now have Liars' Leagues in Leeds, New York and Hong Kong as well as the London fraternity. Carrie Cohen, a very experienced actor, is to perform The Glorious Dolores. I feel very honoured. I can't wait to see what she does with it. Of course I'm really excited about the whole event, hearing the other stories, perhaps meeting the actors and writers. I have invited a few people to come and watch. I'll need to travel up to London after work on Tuesday. I hope it's not snowing!
For the past three weeks I've been travelling up to London on a Saturday (I'm always up there these days – just as well I like trains) to do the Creative Works http://www.creativewrites.co.uk/p/bookings.html workshops at Sutton House in Hackney. It has been wonderful. I recommend them highly. The idea is that you develop your creativity and anything you might choose to read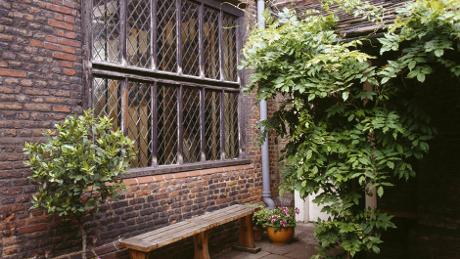 is received without pressure, comment or feedback. I've found the whole concept to be really productive. It's interesting to discover how, with just a little practice, I'm becoming used to actually identifying the creative monster and have learned to use it or work with it, rather than take a more objective control over production or vaguely hoping that it will work for me. It's been quite an eye-opener. In fact, at times, when I've been away from the place and doing some mundane job that requires a certain amount of concentration, I've needed to actually close it down and tell it to go away. I've also found that writing creatively within this historic setting has been very inspiring. I've found that I can lose myself even with visitors walking about, they probably think I'm some weirdo gawping into the distance – I probably am. Anyway, plenty of interesting writing has emerged and I'm certainly going to develop my story of Mary Beale. Two of her portraits are exhibited at Sutton House and I live very close to her Allbrook farmhouse where she took her family to escape from the plague. It's an interesting connection and I've been thinking about her off and on for many years. It needs a great deal of research though. That particular time in England is full of politics and life-changing events – Cromwell, James I, the plague, the Great Fire etc etc.
I have just one more of these Saturday workshops left. It has also been great to meet the other people on the course and to listen to their work. I've missed meeting other writers, I didn't realise how much until this. Perhaps I'll sign up for some more later on this year. Sutton House is also worth a visit. It's a very quiet retreat near the middle of busy Hackney. It feels as if you're in the countryside. http://www.nationaltrust.org.uk/sutton-house/
I have submitted my story to the NYC Midnight competition. I'm really glad I participated this year. It has had some positive reviews and also a few suggestions, although these have not always been consistent. I am definitely going to develop the story further. It had only settled down for a day, perhaps two, before I had to submit, so it's still very fresh. The second round stories are selected in April. If it goes through, I'll need to write a story based on certain given elements, in three days. I managed it last year but my first round entry was a more straightforward story, we'll see what happens. If you're interested you might be able to read the comments here (I'm not sure if you need to log in though): http://forums.nycmidnight.com/13-scattered-fragments-drama-virtual-world-meter_topic6778.html