Let's Play Flute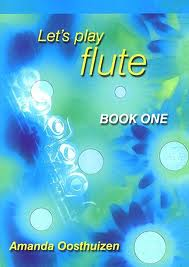 Let's Play Flute Books 1 and 2 are exciting flute methods written for the youngest beginners. With lots of games and tips, loads of very easy tunes and a novel and unusual way to learn to read music, they are a great way to make the first steps on the flute.
Book 1 takes the pupil through the notes B, A, G, C, Bb and F and Book 2 begins with D and then progresses to higher notes. A fun and easy way to start playing a musical instrument that leads the pupil gradually through the fundamentals of flute playing.
Let's Play Clarinet and Let's Play Saxophone are also available and follow a similar route.
For an interesting method of teaching the second and third octaves, Let's Play More Flute Books 1 and 2 take the student into sight reading, improvisation, scale playing and simple extended techniques. More on these books on another page.
The Let's Play books are published by Kevin Mayhew Ltd and are available from music suppliers worldwide.