Ghent is Great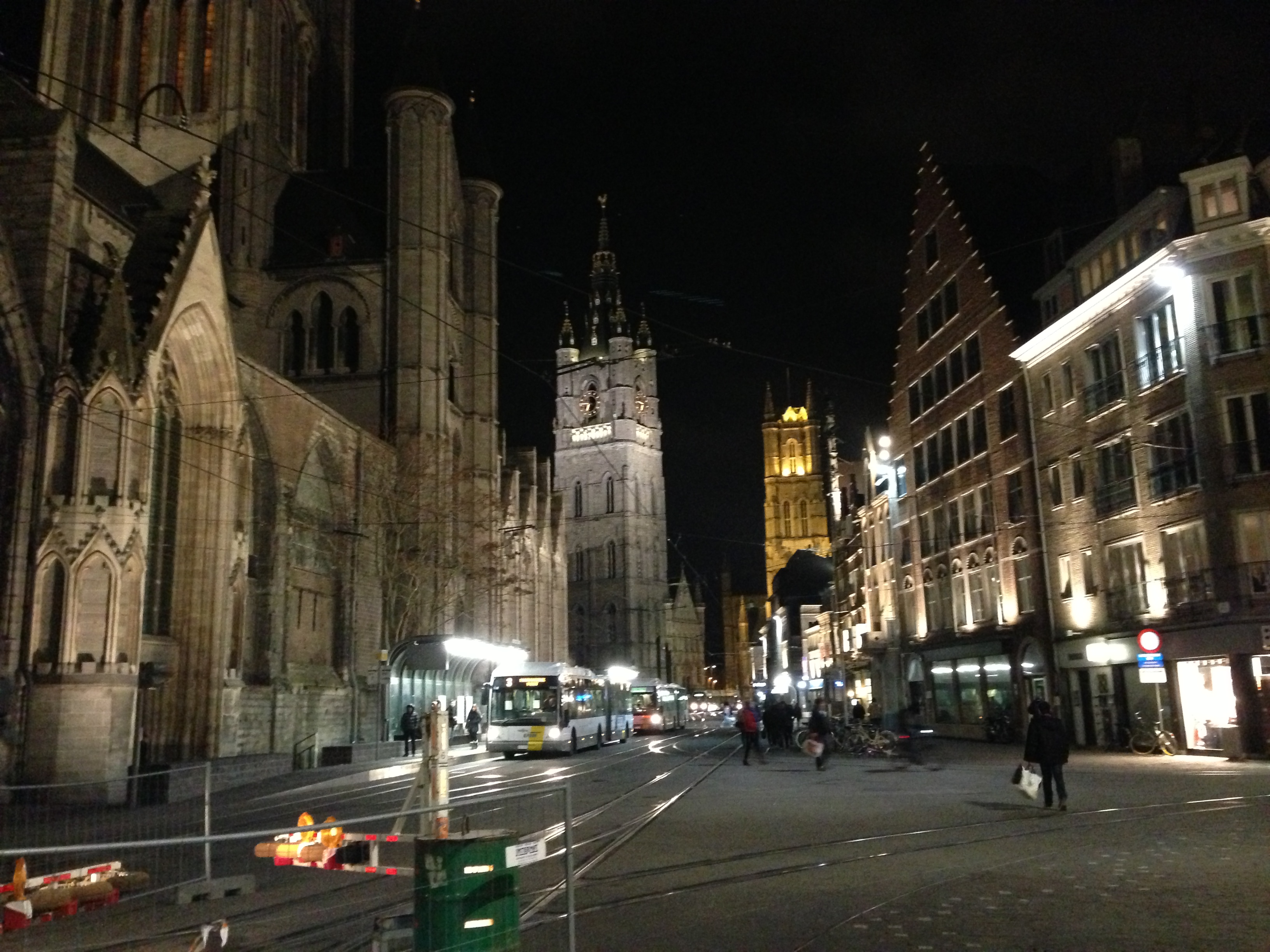 I took the Eurostar from St Pancras to Ghent last week. I know some people might think me a bit crazy. We did it because my daughter and I wanted to go to a concert performed by amazing Dutch bassoonist, Bram van Sambeek, and the Navarra String Quartet. An excellent reason to go anywhere, I'm sure you'll agree.
The journey itself was uneventful although we had to change at Brussels to make the connection to Ghent. I think I may have taken a psychological diversion into the teenage mind en route because I learnt to play Tap Tap on my phone. It's  an annoying game that exercises the fingers and your sense of rhythm, I suppose it's really a dance mat for your fingers. I might find it addictive, that's the real danger, a chance discovery of yet another activity that deflects me from writing.
The hotel's Internet description advised the traveller to take the bus from the railway station. So we figured out how to buy a ticket and walked round a series of bus stops for twenty minutes before finding the actual bus station which seemed to be situated in a wind tunnel. At least it wasn't raining. Forty minutes later our bus arrived but the driver told us it was the wrong bus and that we should go to the other side of the railway station. So another twenty minutes later we found another set of bus stops and loads of children just out of school. When the bus finally arrived the driver said he didn't know where our hotel stop was, I told him we'd get on anyway – I was really cold. He thought I was a bit odd and in retrospect, it was a bit weird. Never mind.
Luckily I'd printed off a google map and I tried to follow it as the bus swerved through the backstreets of Ghent and I tried to stop the luggage falling – there were no seats because of the schoolkids and, incidentally, no announcements of stops or anything like that just a small sign on every bus shelter that you couldn't read from inside the bus until the bus had actually left the stop. We had to get off at an unpronouncable name (vifvergaatenstraate or similar) and believe it or not we found the right stop, about 3 millimetres up from a small green patch on the map.
The hotel was down a cobbled sidestreet and had no frontage, only a large brown wooden door with a small brass nameplate and a bell. Very mysterious and slightly worrying. However, once we were let in, the place was magnificent. An eighteenth century baron's house complete with grand piano in the foyer and a welcoming glass of beer. Yay!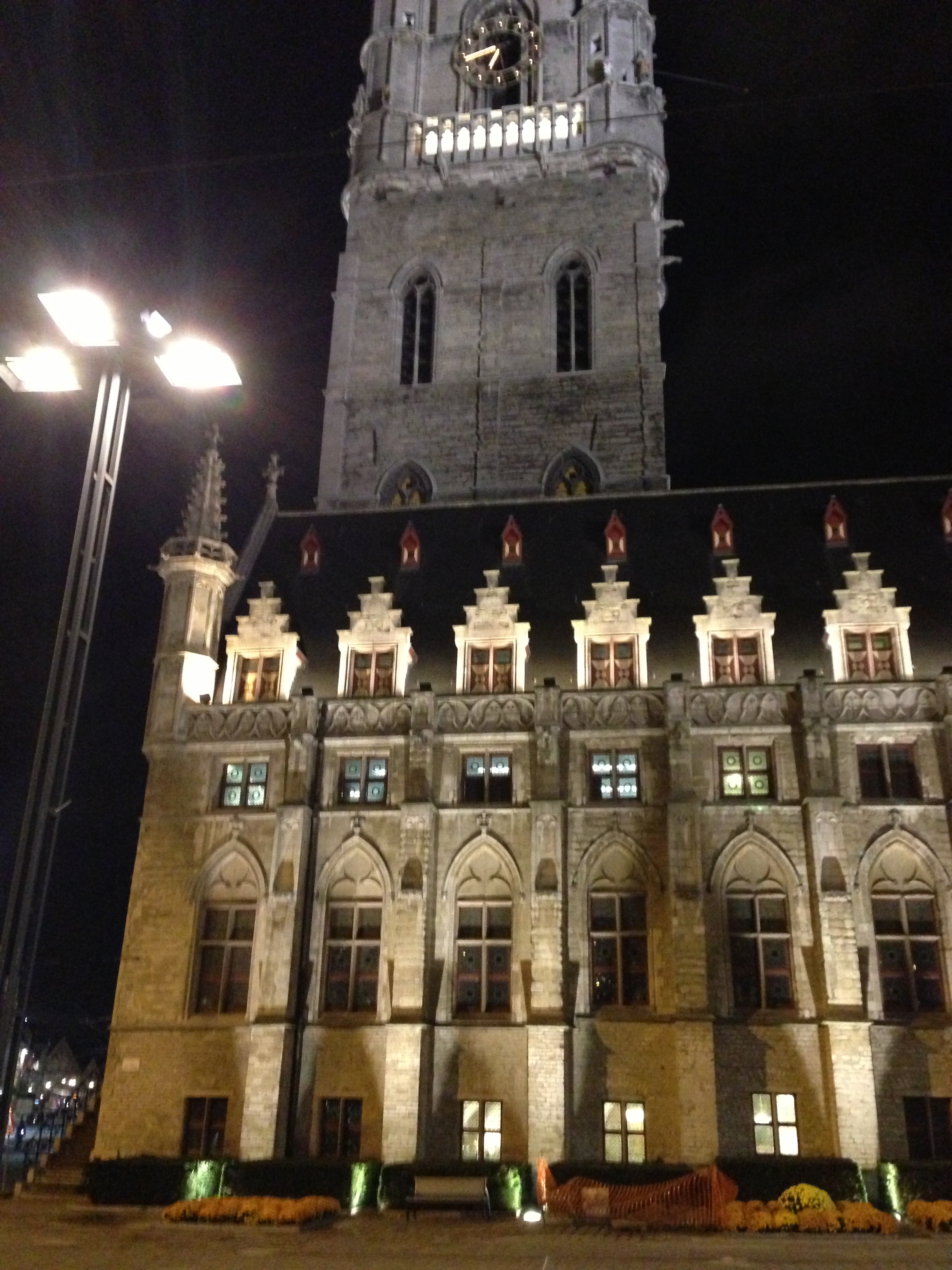 Now the concert was a slightly unusual idea. Bram van Sambeek had emailed my daughter to say that he would give us his allocation of complimentary tickets, which was very kind of him. But, being slightly sceptical, I wanted to be sure we'd get in, after all, we'd travelled quite a way to get there and Bram could very easily have forgotten about us, he has more important things to think about before a concert after all. We set off early for the concert venue to make sure.
Ghent at night is truly magical and fortunately, it was a fine, starlit night; cold but not wet. We were lucky for the tail end of November. Ghent has won a world heritage award for its illuminations and they are absolutely superb. Not only that, everyone we met was kind and really enthusiastic about their city. It reminded me of a fairy story city, the kind that Cinderella probably lived in or possibly containing Sleeping Beauty's Palace and Hansel and Gretel's or Red Riding Hood's cottage. Obviously the Brothers Grimm were German but many of the stories were European in origin so it is a possibility, a vague one perhaps but still.  We walked amongst the tall gabled houses, the churches, magnificent town hall, the imposing, rather scary castle, the canals, narrow streets and a strange interesting structure that could be a market hall but looks like a massive pigeon house. Anyway, we were absolutely mesmerised and with the help of the hotel map, we eventually found the Conservatorium in the Hoogspoort. The language around here includes loads of double Os which made us feel really at home. I should mention that the people of Ghent are clever and speak Dutch, French and English. They tended to think we were Dutch because of the last name but soon switched language when they realised they couldn't get through. Nice people.
The girl had our tickets. Fantastic! We spent the rest of the time before the concert in a bar keeping warm and experiencing a couple of the 450 different types of beer that th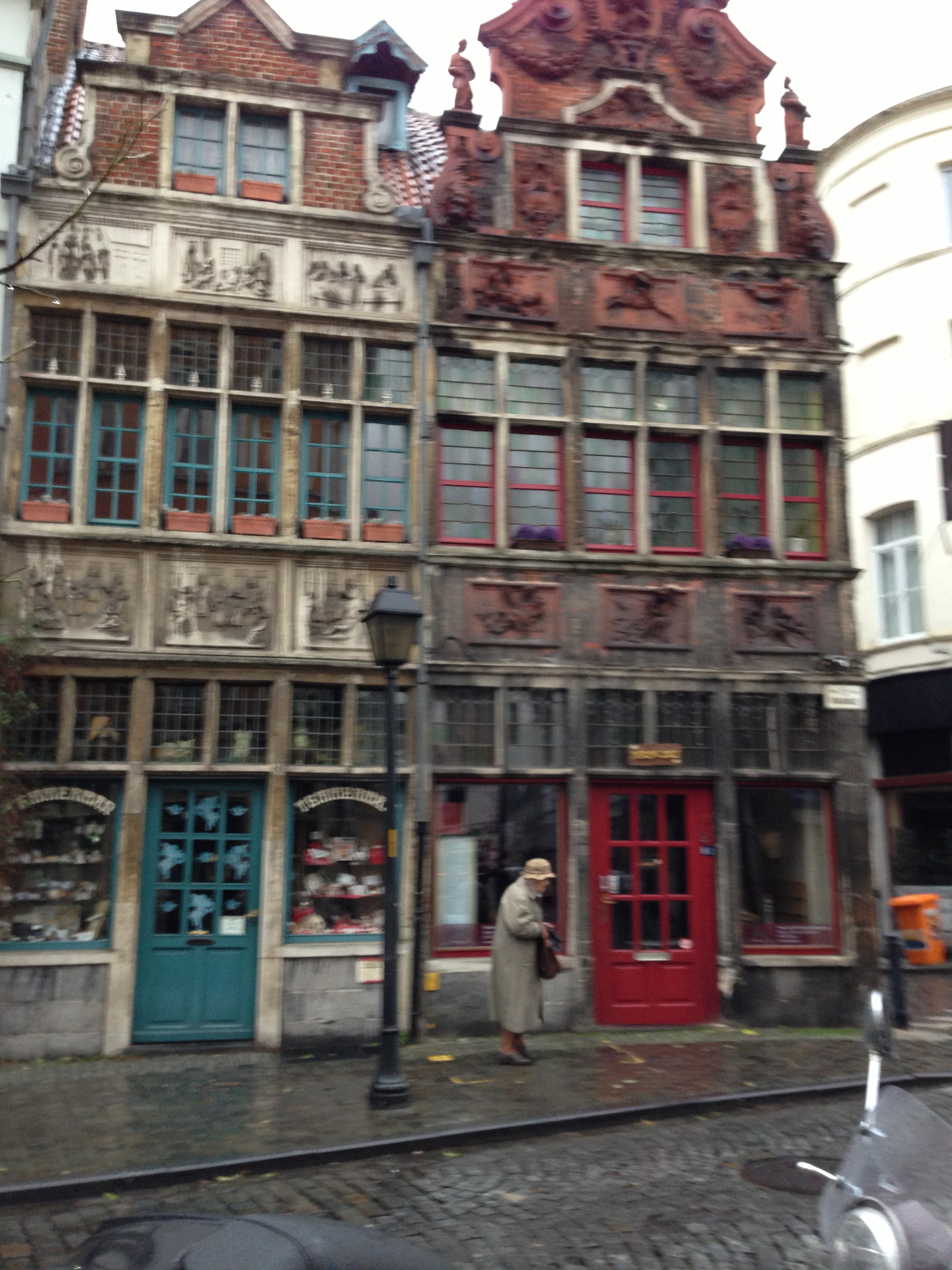 ey make here.
The concert was absolutely fantastic. Devienne's Quartet for bassoon and strings, Joris Blanckaert's String Quartet, a Debussy String Quartet, Woodlands for Bassoon Solo by Sebastian Fagerlund and a Le Puy Quintet for bassoon and strings. The bassoon playing was virtuosic and beautiful and the string playing full of sensitivity and drama. I love the way the continental musicians move as they play and make every effort to communicate with each other and the audience. Surprisingly, I found myself sitting next M. Blanckaert, the composer of the beautiful string quartet. I congratulated him and he seemed pleased. That's the interesting part about sitting in the complimentary seating, you may well find yourself sitting next to an extraordinary composer. But perhaps the highlight for me was the bassoon solo.  'Woodlands' by Sebastian Fagerlund was especially written for Bram van Sambeek. It really did exploit his virtuosity and yet it was magical, haunting music that, for me, conjured up an ancient, dense forest with sinister sprites and glittering waterfalls, poignant and mysterious.
After the concert we waited in the foyer for Bram so that we could thank him for the tickets and I'm really glad we did, he was such a nice guy and then we walked around Ghent until the clocks chimed midnight walking off our elation.
I'd recommend a visit to Ghent to anyone who wants a weekend away. It took about four hours to get there by train, there's plenty to see and a lot going on. I'm sorry we could not spend more than one night there, it's definitely a place I want to revisit.