Conn Pre-War Sax goes live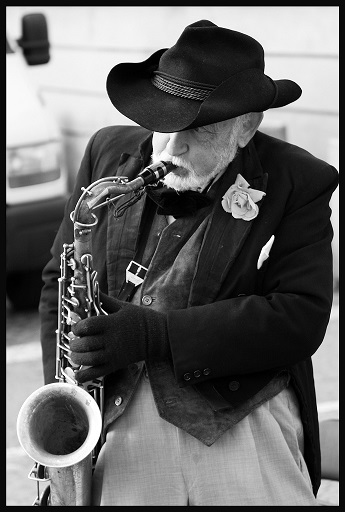 .Cent is a classy-looking online magazine, and my story is live now at http://digital.centmagazine.co.uk/conn-pre-war-sax/#0 The artwork, pasted below, is by Tamara Venn!
I wrote the story especially for their 'Fusion' themed issue. One thing leads to another, and as a result of my Liars' League story, I was asked to submit one for .Cent. There were no guarantees that it would be selected, but obviously the odds are better if you're asked, and luckily the story was chosen.
In actual fact, the title of the story should be: 'Conn Pre-War Sax in the Window of Cash-Converters', and you miss an element by not knowing that the guy has pawned his saxophone. .Cent must have thought that it was probably irrelevant. I think it is relevant when you get to the end of the story. It's only very short and so, obviously, you pack in everything you can within the word count, and that includes the title. My plan for the reader was that the image of a saxophone in the window of a pawn shop would be the starting point of the story; it would snap in again at the end and with the final image, you'd put two and two together and see why he'd pawned it. Ah well, it works perfectly fine as it is, perhaps it's sleeker.

I own a vintage Conn and it is a very beautiful sax…to look at – not to play. It has a wonderful sound in some parts of the range, a very smooth sound, rich and sophisticated but its intonation is erratic and some of the fingering is peculiar. It's a post war Conn and they're very different to those made in the 1930s. Conn changed their production line during the war to make aeroplane gauges and things were never quite the same after that. The Pre-war Conns are much sought after and tend to be pricey.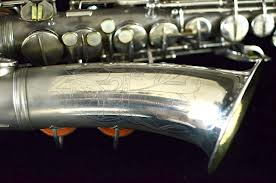 If you're a writer and gets the occasional bout of block, you might be interested to know that I developed this story from a paragraph I'd written a few years ago. I keep the odd sentence or paragraph in a file on the computer ready for developing, ready for times when I'm stuck or blocked and need something new to write. It helps to have these; often I have a clear image in mind when I write them and the paragraph or sentence immediately brings about a visual image or a voice, sometimes they strike an entirely different chord to the original stimulus. I also like writing from pictures and have a collection of postcards, and a gallery of images on my computer. I was really stuck this time. Nothing seemed to work. I needed to write the story in a hurry because I'd left it to the last minute and whatever I did, I simply could not get going. A case of pressure, pressure pressure and blank, blank blank, pressure, blank, pressurepressure blank. You get the picture, I'm sure. But once I found the paragraph and linked it to something else that I'd been thinking about, things began to start moving. It's great news. I'm so glad .Cent liked it. If there's a link of some kind, I'll post it. There was but it has been taken down.