Chalk Trilogy and Winchester Cathedral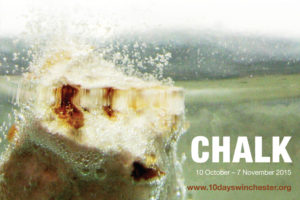 My story has been on display at Winchester Cathedral and I, along with other members of the Taverners writers group, have been involved in readings, workshops and interviews as a part of the 10 Days Chalk project. At the time of writing, my 'Girl in a Borrowed Cloak', has just been deinstalled from its spot by the cadaver tomb of Bishop Gardiner. It was facing the beautiful triptych by Lucy Ash that inspired my trilogy.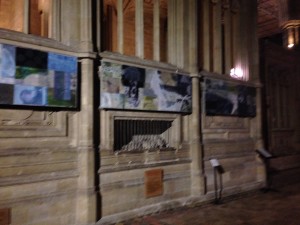 Lucy's paintings examine the three elements of chalk: Oxygen, Calcium and Carbon. They are massive paintings. Each one is divided into around twenty segments, and the contents of each segment sometimes spill over into those either side. They are paintings that you can explore. You can look at them for a long time and find many stories and many ideas. You can return to them and discover something new each time. I love that about them.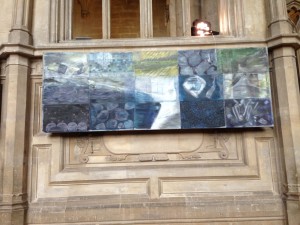 'Girl in a Borrowed Cloak' responds the painting 'Carbon'. The piece can be read as it is but it is also about a refugee arriving in a new country. The girl has escaped the horror of her old life, and is seeking asylum, a new beginning, but she's existing in that state of darkness that we all experience when everything is unknown and nothing is as we expect.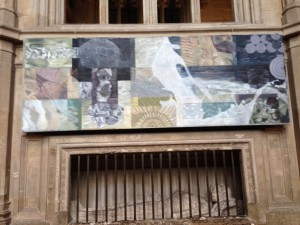 'Girl Who Climbed' – Calcium – is about a decaying environment, calcification, the devastating effects of cancer. Below the painting is the cadaver tomb of Bishop Gardiner. Inappropriately, my piece has a built in joke. The joke has nothing to do with the story, and I didn't think it up but my daughter pointed it out to me, the way daughters do, and I thought I might as well go with it. It will be published in the Paragram Prize anthology so if you read it, chuckle away!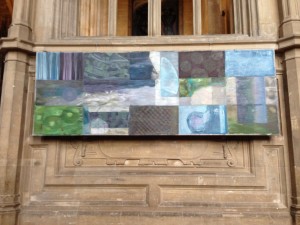 'Girl Wrapped in Beads' – Oxygen – deals with dreams, self-doubt and the fragility of hope.
All three pieces are about hope.
It's quite an interesting exercise to reverse the process and a surprise to me to discover how much I can find of the paintings in the writing. By the way, the images below are not Lucy's paintings, just in case you were wondering.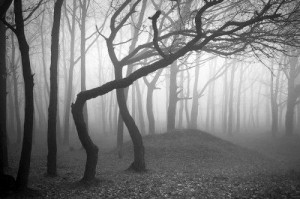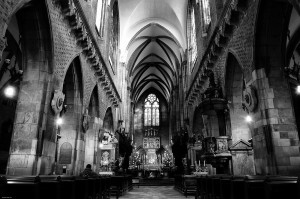 The most brilliant news is that my trilogy followed Lucy's beautiful paintings when they showed in Oxfordshire earlier this year. I can't be more thrilled. It's a real privilege and I'm so glad she likes them. A creative connection is an amazing feeling and we are planning to develop the collaboration further in 2016. Here's a link to my interview with Lucy Ash.
My huge thanks go to 10 Days – especially Trish Bould, Angela Peagram and Lisa Earley for organising such a phenomenal project. It has been brilliant and very inspiring!