Arvon – a purple plane, a Yorkshire valley and a useful wee jolt
I have been on the Arvon mailing list for years, decades even, and every now and then I drool over their website and fantasise about which house, and which course I might go on if I had the dosh. Suddenly, thanks to those mad dogs at Barclays and their mishandling of my overdraft insurance, I found myself with spare money! I added myself to the Work in Progress waiting list hardly expecting to get on the course but a couple of weeks before it was due to start, I was in, at Lumb Bank. Heck!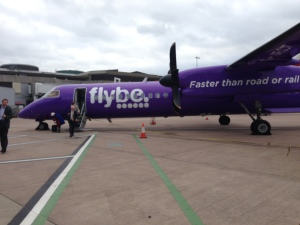 It all proved to be so perfect and that hardly ever happens, does it? I've always wanted to go to Yorkshire, my mother was a Yorkshirewoman and a couple of weeks ago, I forayed into the murky mire of ancestry websites and discovered a lot of Yorkshire connections. Lumb Bank was Ted Hughes' home and I love his poetry. I even attended one of his poetry workshops when I was at college in the late seventies. What's more, I have a lovely collection of his poetry with a label inside telling me I'd won first prize in a poetry contest – a surprise in itself because I thought it was a short story prize I'd won. The tutors on the Work in Progress course were gob-smackingly amazing writers: Jim Crace and Susan Elderkin. Wow! But how would I get there? I held my breath as I clicked around the internet. The train took ages but as I searched, a little aeroplane logo appeared. Flying is such fun, whipping you out of your everyday world. Dare I click? Yes, I could justify the flight from Southampton to Manchester because it was cheaper than catching the train. Result!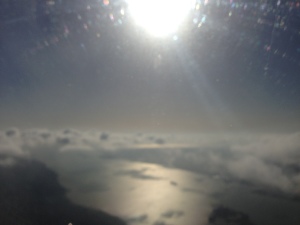 It took two taxi rides, a flight and three trains before I trundled my wheelicase down the hill to Lumb Bank. The house was a gorgeous, flint, mill-owner's residence. The scenery was fantastic and I was given a room that was sublime for writing. It was up in the attic with a view of a mountain covered in trees and furnished with a great big writing table, a lamp, plenty of sockets, a single bed and a chest of drawers. Bliss! What more could I want!
Of course, there was the work. After much thought, I decided to use the course to develop and discover more about the new novel I'm working on, rather than the one I've 'completed' and am in the process of submitting to agents.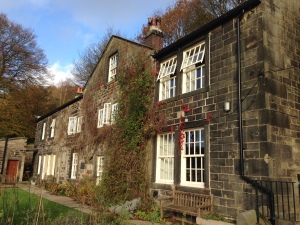 Arvon courses last four full days with a regime of workshops in the mornings, writing time in the afternoons and events in the evenings.
Susan Elderkin's workshops dealt with technique and we produced several pieces of writing. I found that she jolted me out of my writing comfort zone, a very good thing. Suze's workshops made me consider why I make the decisions I do, about viewpoint, especially. My work is written mostly in first person. I choose to write in that way because it enables me to make a direct connection to the main character when I'm writing which is not necessarily a good reason. The new work in progress could easily be changed to third person without losing a great deal and with much to gain. I didn't really want to change because I like writing like that but as I read my story aloud on the final evening, her suggestions began to make complete sense, and I wanted to rewrite as I read. It's good to be jolted and it's given me a great deal to consider.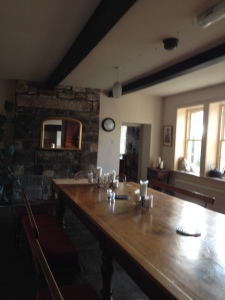 Jim Crace's workshops dealt more directly with our works in progress. We wrote blurbs about our novels and discussed them as if we were at a publishers' meeting. It was fascinating to hear other people describe their novels, and invaluable to hear theirs and Jim's responses to mine. He put us on the spot and there's nothing like seeing eight faces, including that of Jim Crace himself, waiting for you tell them what your novel is about, to focus your mind. I knew my aims for the novel before I went but I am now much clearer about its direction, certain boundaries, the ending, and structure, and I was given plenty of ideas that I can develop. It was also a great inspiration to find that Jim was enthusiastic about my story and was actually interested enough to come up with some cunning ideas about how I could develop it.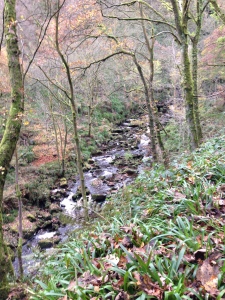 And finally we had tutorials. I am still at the stage of rearranging, restructuring and thinking about my novel, rather than fiddling with language, although I do have, and I say this with a twinkle of satisfaction, a first draft of 53,000 words, ghastly words though they are. I tried to write notes as Suze and Jim gave me their observations, but it's always difficult to listen attentively, respond and write at the same time. At one point I was looking at Jim, listening to what he was saying and my hand was still writing the last point he'd made. Odd sensation that! I inevitably missed some things. For example, Jim frowned thoughtfully at the ceiling and said, "Your novel is about three things. They are…" "Ah yes," I thought. "You're right. So it is." By then he'd moved on to talk about some other aspect, and for the life of me I can't remember the third thing. I guess I'll have to work it out for myself! Damn!
All this was, as you can tell, great fun and very useful. But, you know, it's the other people who can turn a residential course from useful to wonderful, and enable you to learn things about yourself as well as your writing. It was an absolute joy to talk, listen, eat, walk, drink and cook with the other participants. Everyone was so generous and interesting. I can't wait to read their novels. All in all, it was pretty much perfect except that the train broke down on the way back to the airport. Even so, a group of women on a spa weekend broke out a bottle of rosé and passed it round so we could all have a swig. Fun times! But enough of this, now I must get on with some proper writing.