An Interview with Claire Fuller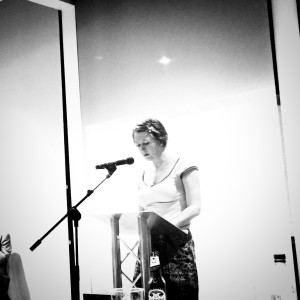 Claire Fuller's debut novel, Our Endless Numbered Days is published by Fig Tree / Penguin in the UK and won the 2015 Desmond Elliott prize. Claire is also an expert writer of flash fiction. For 10 Days 2015 she has written 'Chalk Mountains' which can be viewed at Winchester's Discovery Centre which will also host a not to be missed conversation between Claire and poet, Nick MacKinnon, on 29th October 7-9pm. Details below.
Thank you, Claire, for taking the time to talk about Our Endless Numbered Days.
Here is the tantalising beginning:
Highgate, London, November 1985
This morning I found a black-and-white photograph of my father at the back of the bureau drawer. He didn't look like a liar. My mother, Ute, had removed the other pictures of him from the albums she kept on the bottom shelf of the bookcase, and shuffled around all the remaining family and baby snapshots to fill in the gaps. The framed picture of their wedding, which used to sit on the mantelpiece, had gone too.
On the back of the photograph, Ute had written James und seine Busenfreunde mit Oliver, 1976 in her steady handwriting. It was the last picture that had been taken of my father. He looked shockingly young and healthy, his face as smooth and white as a river pebble. He would have been twenty-six, nine years older than I am today.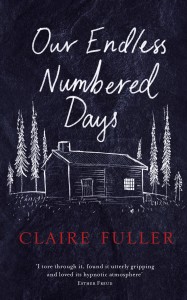 Amanda: Claire, it's such an intriguing start to a novel, particularly that sentence: 'He didn't look like a liar.' which tells us so much about the rest of the story. Unless you plan meticulously, this must have been written after the novel was completed. Did you try out many beginnings before you arrived at this one?
Claire: I had to go back and look at all the drafts I'd saved to find the answer to that question. It looks like most of the first few lines were there from the very beginning, albeit in a rough form, but that particular line only existed when I'd finished the complete first draft. I'd decided by that stage that one of the themes would be lies – those we tell ourselves and those that other people tell. I remember that I'd read somewhere that Ian McEwan tries to get a feeling of the complete book in his first lines, so I wanted to see if I could do the same. And also I'd recently re-read Daphne du Maurier's Rebecca and I wanted to get a similar tone to the start of that novel, which is one of my absolute favourites.
A: That's amazing, and thanks for going back through the drafts. Your first person character, Peggy, is eight when the main story begins. I was totally convinced by her and love the fact that she doesn't sound like an eight year old, that would be incredibly dull. We're aware that it's her older self recounting the story. How did you decide on this tactic? How did the characters arrive?
C: That issue, of having a child relate the story, but still wanting descriptive, adult language was one of the reasons I decided to have a 17 year-old Peggy tell us the story. I love descriptive passages in the novels I read – of locations and landscape – and that wouldn't have been possible with an eight year-old narrating. Peggy and James, her father, arrived very easily on the page. Generally, I start writing in order to work out what sort of people my characters are, and let them lead me to a certain extent. I don't do any planning about them before I write.
A: Your prose is meltingly fluent and rhythmic. On almost every page is a phrase or sentence of great beauty. Do these sentences arrive fully formed? How much rewriting is involved?
C: Thank you! No, they don't arrive fully formed; perhaps half formed. I'm not good at writing a very quick first draft. I edit a bit as I go along, but then when I reach the end, I revise, revise, revise – over and over – reworking sections and sentences and words as if it might be a poem I'm writing.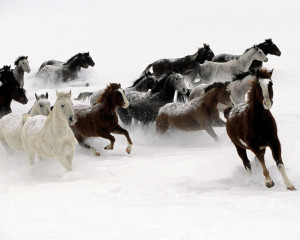 A: Your plot is full-on excitement. How did you manage to achieve this incredible kind of pace and crescendo whilst remaining true to your characters' inner worlds?
C: I think the dual narrative helped with the pacing. About every third chapter there is a break from the story of Peggy in the forest, to her time when she's back at home in London. This allowed me to cut from one time to the other just when things were getting tense. The London chapters also allowed me to lay lots of unexplained clues to what happened in the forest – for instance we learn that Peggy is missing half an ear, but you don't find out why until much later.
A: Aha! That is interesting and very clever. You have chosen not to spell out the ending. The reader has to use her imagination. I think this is brilliant but I guess that not everyone will agree with me. Some readers may feel let down. Why did you do this?
C: I was trying to write a book that I like to read, and I like books where some things are ambiguous; where not everything is spelled out for the reader. I like to think that a reader who has to work a little will be more involved in a book and its characters. Although I'm sure it frustrates some people too!
A: Is Our Endless Numbered Days the first novel you've written? Why did you decide to write a novel?
C: Yes, it was the first novel I wrote. I'm not sure I decided that I was going to write one – it kind of crept up on me! I started with short stories; writing and reading them at events held at Winchester Discovery Centre, then moved on to flash fiction (joining an online group), and at about the same time I enrolled on a Creative and Critical Writing MA at the University of Winchester. Our Endless Numbered Days started out as a couple of scenes from a screenplay, which I rewrote into prose, and kept writing until it became a novel.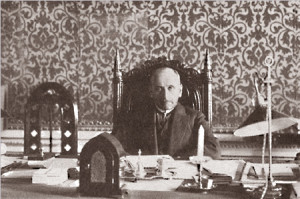 A: How did you go about attracting the interest of an agent and publisher?
C: It was the standard way – off the 'slush pile'. I submitted my manuscript to twelve agents, and got an offer of representation very quickly. I worked with my agent for a few weeks on some edits and then she sent it out to twelve editors at publishing houses that she had selected. I was very lucky that there were three interested and so there was an auction to buy the rights, and Fig Tree, an imprint of Penguin won.
A: I imagine that must have been very exciting. For 10 Days 2015, you have written 'Chalk Mountains', a flash fiction piece. This particular chalk mountain is a startling image but not what we expect from the title. It is, though, another example of how you like to surprise or shock your readers. How important is surprise (or shock) in your writing? Is it particularly important in a very short story?
C: I'd prefer if it were surprise rather than shock, but it is important to me. It's one of the things (only one, mind you) that keeps readers reading. If you're writing a scene there might be three ways the reader thinks the story is going to go, but it's much more fun for the writer and the reader to find a fourth – the unexpected. I'm not sure that this is any more important in a very short story. In fact you have to be careful that you don't write for the sake of the surprise, otherwise it can just read like you're building up to a punchline.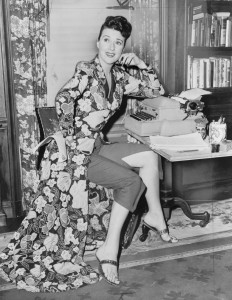 A: How has your life changed since the publication of your book and its subsequent success? Do you enjoy the events and questions?
C: It's changed enormously. I was lucky enough to be able to give up the 'day job' and now I write full time. And I've been surprised at how much I enjoy talking about the book (not so much about me!) and speaking at events, which was very scary to begin with.
A: I know you love to read. What are the books that have most influenced you?
C: Oh, so many books! When I'm writing a novel I do try to read fiction and non-fiction that inform what I'm writing either in content or style. So, for Our Endless Numbered Days I was certainly influenced by writers who have a lot of landscape in their novels – David Vann (Legend of a Suicide), Wallace Stegner (Angle of Repose), anything by Annie Proulx – and I'm still fixated on We Have Always Lived in the Castle by Shirley Jackson. Two other books that I've read recently and loved have been Rawblood by Catriona Ward, and The Mountain Can Wait by Sarah Leipciger – both debuts which came out this year.
A: Yes, I can really see the influence of 'We Have Always Lived in the Castle' – it's tonal more than anything. What are your writing plans? When can we expect the next book?
C: My next book, Swimming Lessons, will also be published by Fig Tree / Penguin at the end of next year or the beginning of 2017. So now, although I'm still answering questions about Our Endless Numbered Days, I'm starting work on a third novel.
A: Brilliant! I can't wait to read it. Thank you, Claire, for giving us such a fascinating insight into your writing process.
Claire Fuller's debut novel, Our Endless Numbered Days, published by Fig Tree / Penguin in the UK will be published in a further eight countries including the U.S. and Canada. She has also written many short stories and pieces of flash fiction, several of which have been published and won competitions including the BBC's Opening Lines.
clairefuller.co.uk     @ClaireFuller2
You can read Claire's 10 Days piece, 'Chalk Mountains', at The Hub, Winchester Discovery Centre until November 7th or online here.
And here are the details of next week's event. Hope to see you all there.
Chalk Talk – 7 – 9pm 29th October, Winchester Discovery Centre
Join us in conversation with guests Nick MacKinnon, winner of the Forward Prize for best single poem and Claire Fuller, winner of the Desmond Elliot Prize for new fiction.
We'll be discussing how local authors flex their writing muscles, reach audiences, win prizes and maintain a vibrant writing life.
The event will be held in the City Space in the Discovery Centre. Tickets are £7 (concessions £5) which includes a glass of wine. Buy tickets in advance here.