About
Since you've visited the site, you might wish to know a little about me and my writing activities. This website is, unashamedly, a record of my published writing and successes but also includes a small blog and essays on books, art, travel, music and other passing or passionate interests. If you have come here looking for my music books, you will prefer my music website, Wild Music Publications.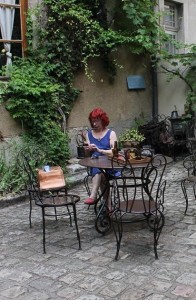 So here's a little about my writing life:
I write short stories, poetry and flash fiction, and from time to time, I finish writing a novel.
'The Cherrywood Box', was highly commended in the 2012 Yeovil Literary Prize and won the 2013 Eludia Awards for the entire manuscript; the beginning of my novel, entitled 'The Glorious Dolores', was performed at Liars' League in London and I was awarded an SLS Fellowship on the strength of an excerpt. My novella, 'Carving Strangers' was commended in the 2017 New Welsh Review awards. My stories have been shortlisted for the 2013 Bristol Prize, the 2016 London Magazine Short Story Competition, the 2014 Ink Tears Competition, the 2012 Mslexia Short Story Competition, the Asham Awards (twice), the 2013 Lightship Memoir Prize, runner-up in the 2014 Writers & Artists Competition, gained second place in the 2012 Yellow Room Competition, longlisted for the 2012 Fish Memoir and Short Story Prize, highly commended in the 2017 New Welsh Review memoir awards, won an Ian St James Award, won prizes in the Mail on Sunday Novel Competition, first place in the NADFAS Poetry Competition, third place in the 2016 Magma/Winchester Poetry Festival pop-up competition, highly commended in the 2017 Winchester Poetry Prize, and winner of the Hampshire Prize. Two pieces were shortlisted for the 2016 Paragram Prize, won the 2013 Litro Poland/Bruno Schulz Competition, won the 2014 Synaesthesia Magazine Competition, performed at Liars' League in London and published extensively online. Print stories are in the 2103 Bristol Prize Anthology, 'Scraps' the NFFD anthology, 'The New Writer', 'Litro', 'The Lampeter Review', various BBC magazines, pasted up on the London Underground, recently in 'Unthology 7', online at 'Spelk', Visual Verse, Magma and 3:AM Magazine, the Paragram anthology, the Winchester Poetry Festival anthology, the New Welsh Review's Rarebites and, surprisingly, two magazines based in New York – Woven Tale Press and Prelude. Work is forthcoming in Storgy and Under the Radar. Ten poems inspired by the work of artist, Lucy Ash, were on display last year at West Ox Arts Gallery, Bampton, Oxfordshire. I have an MA with distinction in Creative Writing from the University of Chichester where I was joint winner of the Kate Betts Memorial Prize.
I like collaborating with artists, musicians and other writers, and generally bouncing ideas around with people or writing stories that are inspired by music and art. I've had work displayed at Pallant House, West Ox Arts, the White Building galleries and Winchester Cathedral.
I had an amazing time working with the writers and artists involved in the arts project: 10 Days. You can read interviews with some of the artists and writers on this website. I enjoy performing my poetry and stories and am a regular contributor to Loose Muse, Winchester. A highlight for me was reading at Lovitaly in the New Forest for the Rough Diamonds writing group.
Links to work that has been published online can be found on the Writing Links page. I recommend my poem 'Dear John' in Magma, a story: 'The Cellist and the Wolves' in the Lampeter Review,  or a very short story: 'Gloves of Gdańsk' in Litro and the Polish Cultural Institute.
As far as reading goes, well, I find the short stories of Bruno Schulz, Gogol, Leonora Carrington, Adam Marek, Anthony Doerr, Italo Calvino, Yiyun Li, Tatyana Tolstaya and Ludmilla Petrushevskaya particularly fascinating amongst very many others, oh and I love Russian literature. Novels? SO many… but let's think about the living. I will read anything by these amazing writers – Alison MacLeod, AL Kennedy, Jim Crace, Edmund de Waal, Sarah Waters, Sarah Hall, Amy Tan, DBC Pierre, Siri Hustvedt, Helen Dunmore, Isabel Allende, Jeanette Winterson, Jonathan Safran Foer, Michèle Roberts, Peter Carey, Sidney Sheldon, William Boyd.
I'm currently reading: 'All the Beloved Ghosts' Alison MacLeod and 'Blind Willow, Sleeping Woman' Haruki Murakami.
Previously: 'The Art of Falling' by Kim Moore and 'Don't Ask' by Isabel Rogers.
'Swimming Lessons' by Claire Fuller and 'Sweet Caress' by William Boyd.
'The Gustav Sonata' by Rose Tremain. 'The Essex Serpent' by Sarah Perry, 'Solar Bones' Mike McCormack,  and 'Falling Awake' Alice Oswald.
'The Tormented Mirror' Russell Edson, 'Collected Stories of Colette',
'No Map Could Show Them' Helen Mort, 'Burning Your Boats' Angela Carter, 'Stuff' Charlie Hill,
'The Little Stranger' Sarah Waters, and 'Kith' Jo Bell.
'Quarantine' Jim Crace, 'No Man's Land' Granta, 'Kiss Me First' Lottie Moggach,
'The Museum of You' Carys Bray, and 'Fly Away Home' Marina Warner,
'The Truth About Julia' Anna Schaffner, 'Pond' Claire-Louise Bennett,
'The Aleph and Other Stories' Jorge Luis Borges, 'Collected Stories' Angela Carter,
'Nocilla Dream' Agustin Fernandez Mallo, 'In-Flight Entertainment Helen Simpson,
'A Little Life' Hanya Yanagihara, 'Dancing on the Outskirts' Shena Mackay,
'How to Be Both' Ali Smith, 'The Buried Giant' Kazuo Ishiguro,
'The White Road' by Edmund de Waal, and I got to know a hell of a lot about porcelain.
'The Paying Guests' Sarah Waters, 'The Passion According to G.H.' Clarice Lispector,
'If On A Winter's Night A Traveller' Italo Calvino,'The Loser' Thomas Bernhardt,
'The Weightless World' Anthony Trevelyan, 'La Boutique Obscure' Georges Perec,
'The Innocent' Ian McEwan, 'Asunder' Chloe Aridjis, 'Housekeeping' Marilynne Robinson,
'The Paris Wife' Paula McLain, 'A Moveable Feast' Ernest Hemingway,
'How To Be A Public Author' Francis Plugg, 'The Illusion of Separateness' Simon Van Booy,
'The Adulterous Woman' Albert Camus, 'The Bell Jar' Sylvia Platt,
'The Last Time I Saw Jane' Kate Pullinger, 'Berlin Tales' Lyn Marven,
'Sleepless Nights' Elizabeth Hardwick, 'Giovanni's Room James Baldwin,
'The Goldfinch' Donna Tartt, 'The Third Policeman' Flann O'Brien,
'Jakob Von Gunten' Robert Walser, 'Under A Glass Bell' Anais Ninn,
and 'Berlin' by Rory MacLean
'Books' by Charlie Hill and 'Unthology 7' edited by Ashley Stokes and Robin Jones
'Stasiland' by Anna Funder and Grace Paley 'The Collected Stories'
'Book of Clouds' by Chloe Aridjis and 'Pushkin's Children' by Tatyana Tolstaya
'The Moment' by Douglas Kennedy, 'The Syllabus of Errors' by Ashley Stokes, 'Goodbye to Berlin' Christopher Isherwood
'Unthology 6' and 'Our Endless Numbered Days' by Claire Fuller.
CONTACT
EMAIL: amandaoosthuizen@icloud.com
TWITTER: @amandaoosty