Archive for April, 2013

My vignette 'Balancing on Ladders' is up today on the absolutely gorgeous Issue 6 of Vine Leaves. It can be read here on Page 8: but there are loads of beautiful, strange vignettes and poetry to be read in this magazine. The vines are lush and fecund.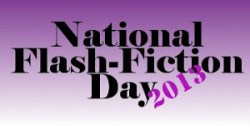 Great! My little story 'Room of the Dead' is live today at FlashFloods – http://networkedblogs.com/KqPNk Over a hundred glorious flash fictions are scheduled to appear throughout the day. How great is that?
March turned into a brilliant month for me as far as writing is concerned and April is starting out well. I have a vignette 'Balancing on Ladders' coming out in the marvellous Vine Leaves Journal on 19th April and on the same day my Flash 'Room of the Dead' will be appearing on Flashfloods Journal. […]